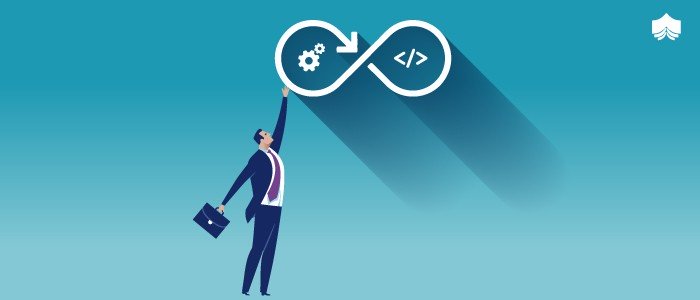 DevOps Engineer Job Description & Responsibilities
This DevOps Engineer job description template is crafted to help you attract the most qualified candidates for your company. Make sure to customize it to your job opening by including requirements, benefits, and perks specific to the role and your company.
DevOps Engineers are a combination of developer (Dev) and system admin professionals ("Op"-erations) who bridge the gap between developers and the IT team.
They thoroughly understand the software development lifecycle and they understand the automation tools used to create the CI/CD (continuous integration/continuous delivery) pipeline, which minimizes coding errors and facilitates rapid deployment of higher-quality products. DevOp engineers guide code releases from development to distribution.
What are the DevOps Engineer Responsibilities?
Generally speaking, DevOps engineers develop software and software fixes to integrate internal systems. They ensure code quality, test and distribute code updates, and monitor the health and stability of the servers.
Specifically, there are many roles a DevOp engineer may assume–or he may do them all. As a software developer, he is responsible for building software releases and testing the new code. As an automation expert, he uses tools that automate the development, testing, and integration of software releases/fixes. As a release manager, he is responsible for releasing new features across the organization and making sure those releases are stable. And as a security officer, he continually monitors the product's (system's) health and security once the updates are deployed.
DevOps engineers' responsibilities include analyzing production errors to define and create tools that help mitigate problems in the system design stage and applying user-defined integrations, improving the user experience.
Finally, to be efficient in the position, the DevOp engineer identifies changes that are necessary to maintain optimal system performance while liaising with management to successfully target and deploy solutions.  
Cyber Security Specialist Job Description Template
At Success Inc., we are looking for a DevOps Engineer to join our organization and help us improve our operating systems. The ideal candidate will have a strong background in software engineering and will employ DevOps tools to improve the development team's production. You will guide our hardworking team through the process of designing and writing a dependable codebase. This position will also allow you to innovate our engineering systems and practices. If you would like to have a pivotal role in designing and implementing strategic processes that elevate our company to resounding success, then we want to hear from you.
DevOps Engineer Responsibilities
Apply cloud (AWS, Azure, GCP) computing skills to deploy upgrades and fixes.
Design, develop, and implement software integrations based on user feedback.
Troubleshoot production issues and coordinate with the development team to streamline code deployment.
Implement automation tools and frameworks (CI/CD pipelines).
Analyze code and communicate detailed reviews to development teams to ensure a marked improvement in applications and the timely completion of projects.
Collaborate with team members to improve the company's engineering tools, systems and procedures, and data security.
Optimize the company's computing architecture.
Conduct systems tests for security, performance, and availability.
Develop and maintain design and troubleshooting documentation.
DevOps Engineer Requirements
You possess a Bachelor's degree in Computer Science, Engineering, or relevant field.
You have 3+ years experience as a DevOps Engineer or equivalent software-engineering role.
You are an expert in code deployment tools (Puppet, Ansible, and Chef).
You can maintain Java web applications.
You have experience in network, server, and application-status monitoring.
You possess a strong command of software-automation production systems (Jenkins and Selenium).
You exhibit expertise in software development methodologies.
You have working knowledge of Ruby or Python and known DevOps tools like Git and GitHub.
You have a working knowledge of databases and SQL (Structured Query Language).
You possess a problem-solving attitude.
You can work independently and as part of a team.
DevOps engineering is an emerging science that bridges the software development and user experience aspects of a company's information-technology systems. Securing an experienced DevOps engineer to steer your team and optimize your company's internal systems and practices will improve your company's productivity.