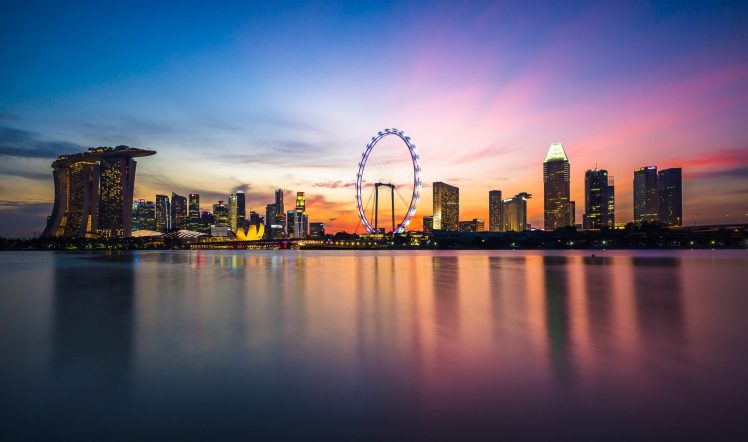 How To Get Startup Jobs in Singapore
Over the past decade, Singapore has burst onto the global tech startup scene guns blazing and is now home to some of the most exciting growth opportunities in the world. Here's your step-by-step guide to startup jobs in Singapore and how to snag the one that'll skyrocket your career.
A glimpse into the world of startup jobs in Singapore
As one of the world's top startup ecosystems, Singapore is investing big in maintaining and strengthening this position.
The city-state has famously been Asia's undisputed FinTech frontrunner for years: Startup Genome reports that there are more than 270 FinTech startups in the city.
But don't mistake Singapore for a one-trick startup pony. The city is home to unicorns like Sea (formerly Garena) and Grab. The latter—a ride-hailing, ride sharing, food delivery, and logistics giant—has taken Southeast Asia by storm and left Uber in the dust.
The ones to watch on the startup scene right now, however, are the dizzyingly fast-growing fields of cybersecurity and artificial intelligence (AI).
In 2016, Singapore was the first in the world to make self-driving taxis available to the public. And in 2017, the country launched a trailblazing national AI strategy to speed up AI adoption. Some sources indicate that every year, the data analytics industry funnels upwards of S$1 billion into the country's economy.
Meanwhile, the Singaporean cybersecurity market's projected growth by 2020 is over US$678 million. Understandably so—as one of the most digitally connected countries on the planet, Singapore has its hands full preparing for increasingly advanced cyber threats. And the startup community is answering the call, aided by a dedicated cybersecurity accelerator that is the first of its kind in the region.
The most in-demand skills in Singapore
So much to innovate, so few people to do it. The global talent shortage, currently at a 12-year high, has not left Singapore untouched. As revealed by a 2018 ManpowerGroup study, 56% of employers in the city-state have difficulty filling their open roles.
The odds, it seems, are in favor of the jobseeker.
Yes, there may be more jobs hanging around than you can shake a stick at, but it's still up to the talent to deliver on the sought-after skill sets. And the bar is high.
Case in point, these are Singapore's most in-demand skills as listed by Monster.com:
Software development
Digital marketing
Data analytics
Cybersecurity
With a solid track record in any of these fields, you're already halfway to bagging the startup job of your life in one of the world's leading tech hubs. And you're in for a treat. Companies like Carousell, ViSenze, Handshakes, Taiger, and Shopee are just a few examples of industry-defining startups hiring skilled tech talent.
If there was ever a good moment in history to work with breakthrough technology, now is the time and Singapore is the place.
PS, If your main expertise doesn't fall into one of the above categories, you might want to consider a career pivot. The demand for tech skills isn't showing any signs of slowing down. With that in mind, upskilling or getting certified in these areas is a good way to future-proof your career.
Find out if you're eligible to work in Singapore
What kinds of permits you need to move to Singapore for your snazzy new startup job will depend on your qualifications, experience, salary level, and the type of work you do.
For example, to work in Singapore as a professional, manager, or executive, you'll need a Singapore Employment Pass (commonly known as a work visa). To qualify, your fixed monthly salary in your new role has to be at least S$3,600 (higher if you're very experienced). The evaluators will also look at your degree—preferably from a top university—and any specialist skills and qualifications you may have.
The good news is that your new employer in Singapore will apply for the pass on your behalf and you don't have to worry about that right now.
So let's get back to finding you that job!
Find exciting companies and startup jobs in Singapore
Based on what we've covered so far, finding a job you're excited about shouldn't take long. You'll find mountains of Singapore jobs on Blockew (with a focus on blockchain and cryto), StartUpJobs, e27, and AngelList. 
If you're overwhelmed by the choices, start by setting priorities and narrowing down your options based on them. For example:
Does the company have a mission that speaks to you? According to a 2018 Mercer study, 75% of employees who are thriving say that their company's purpose resonates with their personal values. Cliché alert: You're more likely to unlock your true potential if your work feels meaningful. So find a company that's doing something you believe in.
What is the growth potential of the company and the industry? What does the future look like for this company? For instance, we already established that cybersecurity and AI are developing like crazy in Singapore, so growth won't be a problem here.
As an extension, what is your growth potential in the role? Look out for companies that value your personal development. Some employers will explicitly state it in their job ads, others require more spying on their careers page. If a company mentions career advancement or offers classes, training, or other opportunities to upskill, that's a pretty solid indicator that they're eager to invest in you and keep you around.
Apply for startup jobs in Singapore 
There's an elephant in this room, so I'll address it before it tears the walls down. "I'm a tech pro at the top of my game," you might be thinking. "I have recruiters and headhunters falling over themselves to get my attention. Why should I be applying for jobs?"
Because this puts your name in front of recruiters outside of your country. And a whole new world—literally—of career growth potential will open up to you. Sending out a few applications here and there will get the ball rolling nicely. The reward is a life-changing career move that'll put you so far ahead of the curve that the curve becomes a distant memory.
The quickest way to a standout job application:
Keep your CV and LinkedIn profile updated. Make it easy for recruiters to learn everything about you at a glance. Highlight your most relevant skills and achievements, and cut out the fluff.
Make friends with cover letters. Companies love it when you're excited about working with them. Research the company, show some personality, and sum up your value and excitement for their mission in a couple of clear paragraphs.
Check your spelling. The working language in Singapore is English, and my sources on the ground assure me that employers there care about proper spelling and grammar. So proofread before sending and capitalize responsibly.
Get to know Singaporean work culture
Your success in job interviews and your potential to thrive in a professional environment are strongly influenced by how smoothly you can navigate the Singaporean work culture.
Largely because of the city's history and the diversity ingrained into Singaporean society, work culture here is often described as a mix of Asian and Western influences. This can lead to surprises for newcomers. Of course, each company will be different—particularly in the startup space, where things may be less traditional.
But let's make some sweeping generalizations anyway!
Work culture in Singapore is community-based. The individual often takes a back seat to the interests of the group, although younger generations may be more individualistic.
Organizations in Singapore are hierarchical. People tend to stick firmly to established chains of command, and saving face in public is important.
Different groups have different sets of rules. The various ethnic groups in Singapore—Chinese and Malaysians being the two largest ones—have their own sets of rules, so you'll probably have to do some probing and observing to figure out how things work at any particular company. 
Negotiate and accept an offer from an employer in Singapore
So you've wowed everyone in your interviews. Brace yourself—an offer is coming!
Getting a job offer from a different country can be a thoroughly confusing experience. The numbers make no sense and you have no idea how to react. Is it generous? Or barely enough to survive? Start with this:
Make sure you have enough time to evaluate the offer. Communicate clearly and thoroughly with the employer and make sure you're on the same page. When are they expecting your response? Is that enough time for you to decide?
Understand the cost of living. If you're not sure what kind of lifestyle you can expect on the salary offered, use a tool like Numbeo to compare salaries, rent prices, and other costs in Singapore vs your current location. Ask your potential employer if anyone on their team wants to hop on a call with you to walk you through it and answer your questions.
Negotiate if necessary. Once you have an understanding of what the offer means, ask yourself if you believe you're worth more. If yes, make a well-reasoned, confident, respectful, and thoughtful counteroffer and show your value.
Look into your heart. No, really. You should be pretty excited about this job, so make sure you're making the right decision for yourself and your career.
Say yes! If your soul-searching yields positive results, accept the offer and get ready to live a seriously upgraded version of your life in Singapore.